IT support
Are you considering outsourcing your service desk, or have you none in the first place? Mtech's skilled IT support adapts to your company's needs.
Our IT support service includes the following:
---
Troubleshooting problems and errors, and small-scale advice
Minor peripheral device installations
Minor installations of regular software onto workstations
Troubleshooting errors on mobile devices and advice
Software distribution and workstation administration software
Exporting ready installation packages for software distribution
Maintenance of existing workstation environment and troubleshooting
Individual remote installations of software on mobile devices
Service Desk services
Mtech IT Care Service Desk service is remote workstation support. The service includes work carried out remotely on workstations, mobile phones and tablet computers. Peripheral devices that are regularly connected directly to the workstations are also included in the service. Ordinary service hours are weekdays from 8.15am – 4.00pm.
In addition to these services, we can also flexibly agree on more extensive or smaller packages. Contact us and we can organise a package to suit your company!
IT support when you need it
Nowadays few organisations have the opportunity or even the need to retain their own IT support staff. Outsourced IT support is the best option if the service is only required occasionally, such as when deploying a new IT environment, installing new devices or software, or when various problems occur.
Modern IT support connects remotely to your device either using separate software or a network service. With a remote connection it is possible to use a computer or mobile device as though a member of IT support were present. It is a convenient way to take care of installations and troubleshooting. A remote connection is an affordable, fast and environmentally friendly alternative to on-site IT support.
Our IT support is available during office hours and can be reached by phone or e-mail, so there is always someone to help!
IT support carries out planning and maintenance
Mtech specialist team is happy to plan an IT support package customised to suit the precise needs of your company.
If necessary, IT support can also help with device procurement, providing recommendations on the best devices for your environment – and you can conveniently order through us.
We are a one-stop shop for agile and professional service, without the jargon.
Our offices are located in Vantaa and Rovaniemi. However, we serve extensively throughout Finland. If your company is located in Ostrobothnia, you can get local service from our subsidiary Neviso Ltd.
Contact us for more information!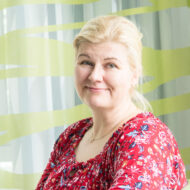 Minna Veljo
/ Director - Customer Solutions Global
sales@mtech.fi / +358 40 483 4141