Server hosting
Have you ever thought how easy it would be if you did not need to worry about the company server environment at all? With our hosting service, you can succeed in that.
Hosting services or server maintenance means that we take care of the maintenance and work of the server environment for you. We can tailor the extent of the service according to your wishes as a customer. The most comprehensive form is a turnkey solution. That means that we take care of all server maintenance, including the applications, and also liaise with application suppliers when necessary.
Our hosting service includes:
---
Server and operating system maintenance
Appropriate data centre facilities where the service is carried out
Information safety update installations
Communication links
Safeguards
Automatic surveillance with alarms
Customer service
As our customer, you need not invest in the server environment. You are carefree when professionals handle your server environment.
Flexible service for the fast-changing needs of a growing business
In small and medium-size businesses, one may wonder whether it is financially viable to hire a person to maintain the server environment, and whether there is knowhow inside the company to do it. We recommend contacting us and asking for a quotation to fit the exact needs of your business. When the IT environments are taken care of by professionals, you need not worry if your servers are safe.
Have you happened to think what fire extinguishing system should there be in your data centre? Are you prepared for power outages? Have you got UPS devices and an automatic reserve system for them? Are all security measures and firewall updates in place? Let us take care of your server environment, and you will not have to think about these questions.
If you outsource your server maintenance to us, your benefits will be:
controllable and predictable cost
– you know your cost when you sign the contract
– you need no investment in hardware
our Finnish, professional personnel is at your service: Mtech is a Finnish company with the data centre located in Finland
a flexible and agile partner; hierarchy does not slow down or hinder the work of our specialists
The service makes the customer carefree.
Our partners include Fujitsu, Microsoft, Vmware and F-Secure. That allows you to acquire a wide range of hardware, software and other services through us.
Contact us for more information!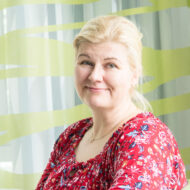 Minna Veljo
/ Director - Customer Solutions Global
sales@mtech.fi / +358 40 483 4141